Master Acupressure Therapist, Pain Care SPECIALIST,
​License Massage Therapist
Lucy Lu Allen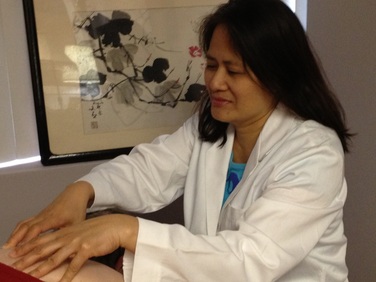 ,Lucy Lu Allen: MBA, LMT (Licensed Massage Therapist) and Master Acupressure Therapist for acute & chronic pain care, specializing in Injury Rehabilitation, Deep Tissue, Sports Massage and Preventive Therapy.

Lucy Lu grew up in a traditional Chinese family that values and practices acupressure massage and herbal remedies for maintaining health and treating illnesses. Gifted, talented and experienced, she is one of the best pain relief massage therapists in Boston. She is passionate of her work and always willing and eager to help people.


She studies Asian Bodyworks and Massage Therapy extensively and has mastered the advanced techniques in Chinese Tuina, Healing Qigong, Thai bodywork and Swedish Massage. Combining the traditional Eastern Methods and Western techniques, through meridian and acupressure points, she helps many clients release even the toughest and decades long chronic pains-Migraine Headaches, TMJ, Frozen Shoulder, Carpal Tunnels, Tennis Elbow, Sciatica, Chronic back pains, Knee pains, Multiple Sclerosis Allergy, Asthma, Anxiety, PMS, Depression, Digestive Disorder, Insomnia, Sleep Apnea, Myofascial Pain, Prostate, Erectile Dysfunction. Sports injuries: IT Band Syndrome, Tendinitis, Runners knee, Shine splint.

Lucy believes in helping clients to achieve ultimate wellness through prevention and diet. Her success for pain relief comes from finding the causes of the problems and treating the sources not the symptoms. Pain Killer and cortisone shots temporarily relief the pains, not long term solutions. Besides helping her clients with exiting chronic pains, she does body toning and reconditioning to prevent illness so her clients can enjoy life to the fullest.

She amazes her clients all the time and they call her a miracle worker. From the most relaxing Swedish massage to some most painful sessions of pain relief, Lucy will give you the experience of a life time and lead you on the way to recovery and enjoying long lasting health and wellness.
---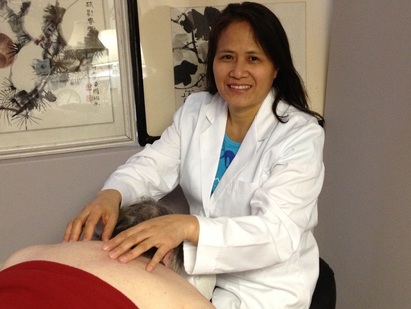 Lucy Lu working on a client who has Migraine headaches and chronic neck and shoulder pain.

Hear the amazing stories of Lucy's clients:
​
I'm 28 years old, 6'2" tall, and 250lbs. I work as a farmhand in Central PA. When I need my body to work, I need it to work well and for long hours in a single stretch. On some days I need to be capable of several thousand pounds of lifting without many breaks, and any single instance can be as much as 200lbs.
I recently hurt my hip, leg, shoulder, and back when I took a fall from the top of an incomplete bunkbed. I initially thought that I'd be unable to work for at least 3 weeks- but that was before I saw Lucy. When I was first treated I was walking with a limp, I had difficulty raising my knees above my hips, my shoulders were sore, and pivoting on either ankle caused me pain. I was convinced that I had sprained a hip, an ankle, and possible had a minor dislocation in one or both of my shoulders.
Lucy is a born giver, and only had my best interest in mind when she treated me. She worked systematically and carefully, treating my bruises, identifying the muscles and ligaments I had strained in my fall. She realized that I hadn't sprained anything, but that I simply had deep muscle bruises.
The process took approximately an hour and a half between the acupressure and cupping. It was thoughtful, professional, and she led me through every element of her treatment. I felt comfortable and well taken care of from start to finish. She consistently checked in with me about my levels of pain while she massaged sore parts of my body and adjusted her care accordingly- sometimes pain at the moment of treatment will lead to much greater relief afterwards.
I highly recommend Lucy's care because after my treatment I was back to work the very next day. My limp was gone, my shoulder was loose, and I could pivot with any part of my body. I've never had a medical experience like this, and although I've never been a believer in acupressure I can honestly say that I'm astonished at the rate and quality of my improvement. I will always believe in Lucy.
Quentin Rodriguez

More On Testimonial Page
---